SPECIFICATIONS
Suspension
Rigid
Cabinet
Cabinet
Controller
E-P Express®
Capacity
35 lb. (16 kg)
Width
29 in. (736 mm)
Depth
41.16 in. (1046 mm)
Height
43.18 in. (1097 mm)
Door Opening
12 in. (305 mm)
Shipping Weight
581 lb. (264 kg)
Cylinder
Open Pocket
Cylinder Diameter
23 in. (584 mm)
Cylinder Depth
18 in. (457 mm)
Cylinder Volume
4.12 cu. ft. (117 L)
Wash Speed
43 rpm
Distribution Speed
90 rpm
Extraction Speed
530 rpm
Extraction G-Force
90 Gs
Extraction Group
Low
Drive Motor
1 HP (0.75 kW)
Inlet Connection
0.75 in. (19 mm)
Drain Valve
2 in. (51 mm)
Markets
OPL
Save Labor
The Milnor Model MWT16X5 provides multiple ways to save on your labor costs and improve employee efficiency, including:
E-P Express
®

control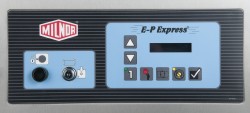 This median control with 30 programmable formulas provides flexibility and bright display allows operator to choose from real words, not codes. Standard controller features English/Spanish (other languages optional). Controller also provides diagnostic and error messages which shorten training time of new employees and allows for fewer operator errors
Process Times
Milnor's microprocessors and software are fast and reliable allowing for quick processing of programmed formulas. Faster process times mean less time processing linen.
Cylinder Volume
A larger cylinder volume than most competitive 20 lb. capacity washer-extractors provides greater productivity through enhanced mechanical action, thorough rinsing and improved extraction. The result is more linen washed per day, or fewer hours required to process the linen.
Save on Linen Replacement Costs
The second highest expense of a laundry is the cost of linen. The Milnor MWT16X5 can help you to extend linen life:
Safe Chemical Injection System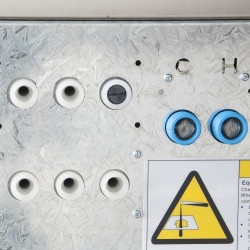 Chemicals are injected in the rear of the machine (unlike certain brands where chemicals are injected near the front of the machine at eye-level). Chemicals are diluted and flushed into the sump of the washer-extractor so that raw chemical does not come in direct contact with the linen or the stainless steel.
Save Energy
A Milnor MWT16X5 can help to reduce your utility bills with its:
Frequency Drive System
A simple single-motor inverter drive reaches maximum extraction speed more gradually and efficiently, reducing peak electricity amperage draw compared to multi-speed motor machines.
Save Water
A Milnor MWT16X5 can reduce fresh water consumption with its:
Three Simple Fast Fill Water Valves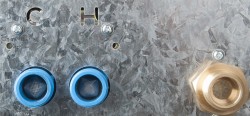 Simple hot and cold water inlets are used to quickly fill the washer without fill level overshoot. A third water inlet is used to thoroughly dilute chemicals so that raw chemical does not directly contact and damage linens.
Proper Cylinder Design
Perforation pattern and perforated ribs allow for rapid exchange of water with the goods, efficiently utilizing the water.
Save Money (Total Cost of Ownership)
There are many features designed into a MWT16X5 washer-extractor to reduce your total cost of ownership - saving you money for years AFTER your initial investment.
Value-Priced
Low initial capital ownership coupled with proven Milnor engineering makes the MWT16X5 an excellent choice for your laundry.
Long Machine Life
Milnor machines typically last longer because of their legendary ruggedness, thoughtful design and dependable quality.
Support Worldwide
Milnor laundry machinery is sold worldwide by the most highly regarded dealer network. Dealers not only provide complete equipment packages, but also can help with planning and installation and offer technical support.
Bearings

Tapered roller bearings have a large contact area - spreading force and contributing to long life. Front and rear bearings are fixed in the same housing, preventing damaging misalignment. And, a pressed-on basket means it does not need to be replaced when a bearing change becomes necessary. Milnor's bearing design is long proven while other companies keep experimenting.
L10 Life
Every Milnor design model is tested for a minimum of 1,000 consecutive hours in a high-extract, out-of-balance state - ensuring your machine is tough and will stand up to years of use.